The Story Behind Soul Deluxe
Soul Deluxe is a weekly radio program featuring eclectic mix sets by Phoenix-based DJ Byron Fenix. The show spotlights Soul music and various genres that either gave rise to or were influenced by it, including Electronic, Disco, Funk, Hip-Hop, House, Jazz, and R&B. In addition to the music, the show exposes listeners to a variety of emerging urban-themed artists and musicians.
The program has its genesis in Unity Vibe, an earlier mix show launched in late 2008 on community radio station Radio Phoenix, which was hosted by Phoenix-based DJ RMC (Ruben Candelaria). One of RMC's regular co-hosts was an emerging mix DJ by the name of Byron Fenix. When RMC decided to end Unity Vibe in mid 2010 to focus on his family, Byron took over his old time slot and launched the weekly radio program now known as Soul Deluxe. Since Unity Vibe focused on spotlighting House music, the early days of Soul Deluxe followed in the same direction.
As time went on, Byron decided to focus his mixes on more soulful cuts from a variety of genres including Electronic, Dance, Disco, Jazz and R&B. The show also began to spotlight emerging urban artists and musicians. Past guests on the show have included Dance music artists Mochico & Boogie, Native American artist Damien Jim, Rap group Shining Soul, and Byron's former co-host DJ RMC.
Soul Deluxe is produced by Radio Phoenix in Phoenix, Arizona, and is distributed nationally by Native Voice One (NV1).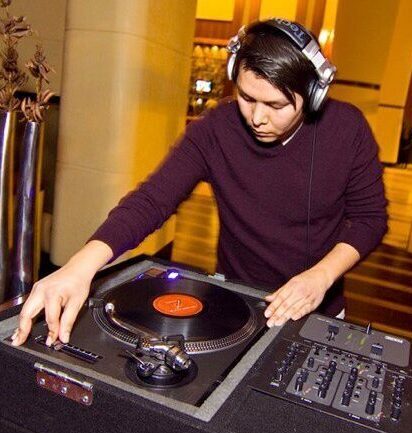 Byron Fenix, senior producer and host of the weekly radio program Soul Deluxe, is not your average mix DJ. "I started collecting music by recording it on a cassette player," he laments. A native of Phoenix, Byron is Soul music's most unlikely ambassador. Born to a Navajo father, and a half Hopi, half Navajo mother, he learned early on to appreciate diversity, not just in the music he colleted, but in his everyday life as well.
In many ways, Byron is an example of the all American guy – he's a graduate of Camelback High School in central Phoenix, studied computer aided design at Phoenix College, and has been "spinning vinyl" in one shape or form, for years. "My cousin started DJ'ing when I was a teenager, and had turntables but he wanted to play Hip-Hop. I was more interested in Electronic music and then developed an interest in Soul music, including Jazz."
Over time Byron's hard work ethic, creative spirit, and curious nature caused him to take the leap and start sharing his love of music on Radio Phoenix. First, in 2008, as part of the innovative Dance music program Unity Vibe, he was thrown into taking on the mic by Phoenix's DJ RMC, and later in 2010, as host of his own popular show.
What some people find the most interesting about him is that even though he has had regular DJ residencies in Phoenix, and a popular radio program, he's still that humble, curious, hard working guy he always was. He also likes to keep things simple. "I still collect vinyl and think it's really important to know how to mix with vinyl. I try to find the soulfullness in all genres – Jazz, House, Electronic, whatever."
When not on the air sharing the newest jams with his radio audience or keeping the crowds hyped at the club Byron says his favorite things to do are spending time with his son, and listening to new music.
A DJ who actually gets excited by the music?
Go figure.